Description
Silo by CCell Battery
The CCell Silo Battery is the latest milestone in vaporizer technology by CCell. Simply slide in your favorite oil cartridge such as the CCell TH2.

Battery Capacity: 500mAh
Dimensions: 63.0H × 28.8W × 18.0D (mm)
Aluminum Alloy Housing
Standard 510 Thread
Inhale Activated
Magnetic Connection
Build-in LED Indicator
Micro-USB Charging Enabled 
The CCell Silo Battery is an evolution of CCell's best-selling product, the CCell Palm Battery.  Like the Palm, the Silo does not compromise; you'll get the same convenient, satisfying experience, all the while enjoying the Silo's sleeker, more symmetrical design.
The 500mAh battery is slightly less powerful than the Palm's 550mAh, but the difference is practically negligible. The Silo is able to consistently deliver full-volume vapor from start to finish for over a week under normal use.
Why Choose CCell Silo
Ergonomically designed to fit comfortably in the palm of your hand, this top-of-the-line rechargeable vape battery is deceptively powerful, making it the perfect choice for home or travel. CCell has made sure that the Silo will integrate seamlessly into your daily routine for a variety of reasons.
The aluminum alloy housing is attractive and durable, and the matte finish makes it resistant to fingerprints and smudging. 

You won't need to worry about tedious buttons; this battery is inhale-activated.

The stealthy breathing LED light indicator offers optimal discretion.

Internally, it is equipped with a quality circuit board with multiple protections. This means the Silo is a low-maintenance and long-lasting purchase. 

All you need to get started is a 510-thread oil cartridge of your choosing. 
Size of CCell Silo
One of the main reasons people love the Silo is its size. Let's just say you're going to enjoy a lighter pocket, as in don't even bother bringing a lighter. The Silo is one of the most portable and discreet vape batteries on the market, which is just one more reason the CCell Silo Battery is a great choice.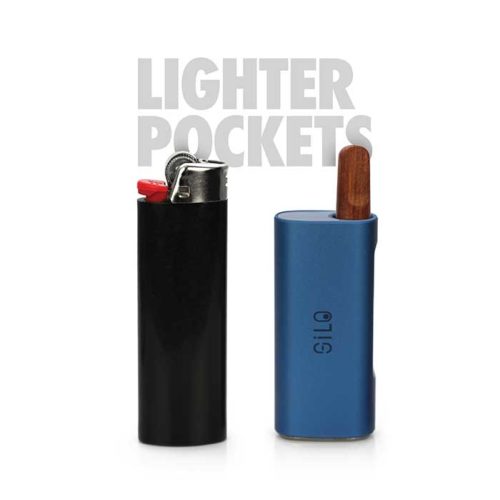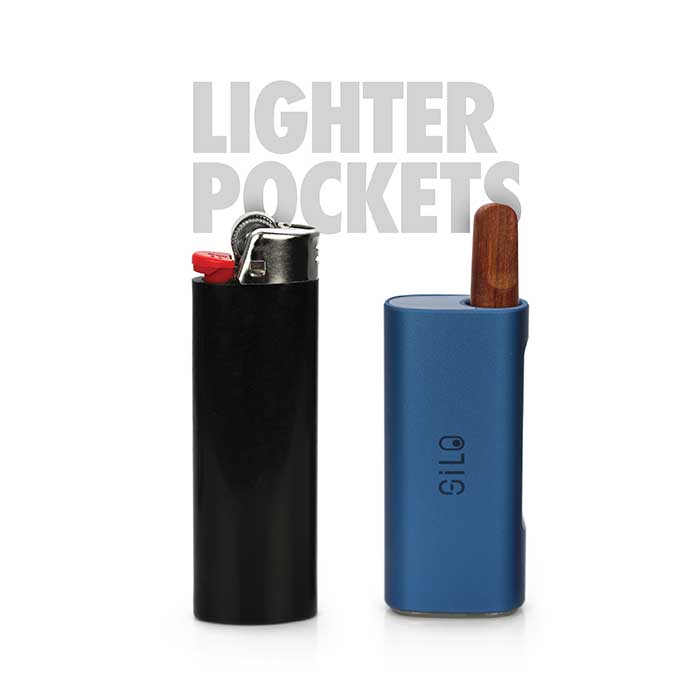 Oil Cartridges
The magnetic adapter makes this battery compatible with a variety of oil cartridges, giving you endless options. However, CCell recommends pairing it with one of their own 510-thread cartridges, like the single-use CCell M6T Oil Cartridge or the reusable CCell TH2 Oil Cartridge, both of which VPM.com offers. The unique ceramic design combined with the power of their batteries produces a truly incomparable experience. 
Personalized Style
The CCell Silo Battery is stylish, as well as functional. The aluminum alloy housing is available in six different colors: Black, Gray, Blue, Pink, White, and Gold.
And depending on the cartridge you choose, you'll have even more options. For example, if you use the CCell TH2, you will be able to select between three different mouthpieces: White, Black, or Redwood. Combine these color options with the color options of the CCell Silo Battery, and you have 108 different custom color combinations available.
For that reason, the Silo battery can be uniquely yours.
Safety & Quality Guaranteed
The company that produces the CCell Silo is Smoore Technology. Without a doubt, Smoore is the industry leader in professional vaporizer manufacturing. They have the best facilities that utilize the latest technology. They hold nearly 20 patents and are constantly innovating the vaporizer industry. When your CCell Palm arrives, you can be confident that you're getting a quality product. 
Aside from their engineering genius, CCell prioritizes safety in all areas of production. VPM.com only offers Authentic CCell Brand products, which have all been stringently tested and guaranteed safe. We are proud to offer you the CCell Silo, a product we believe in from a brand we trust.
What's in the box?
The package includes the following:
1x CCell Silo Battery

2x Magnet Adapter

1x Micro USB Charger
Vaperdudes.com endeavors to ship out all orders the same or the next business day but reserve the right to take up to 2 business days to ship any orders.
Estimated delivery times after processing:
1-2+ Business Days: CT, DE, MD, NJ, NY, PA
2-3+ Business Days: DC, GA, IN, KY, ME, MI, NC, NH, OH, SC, TN, VA, VT, WV
3-4+ Business Days: AL, AR, FL, IA, IL, KS, LA, MN, MO, NE, WI
4-5+ Business Days: AK, AZ, CA, CO, HI, ID, MS, MT, ND, NM, NV, OK, OR, PR, SD, TX, UT, WA, WY & US Virgin Islands
To read our full Shipping & Returns policy please visit Shipping & Returns.
Payment & Security
Your payment information is processed securely. We do not store credit card details nor have access to your credit card information.